Sort By Letters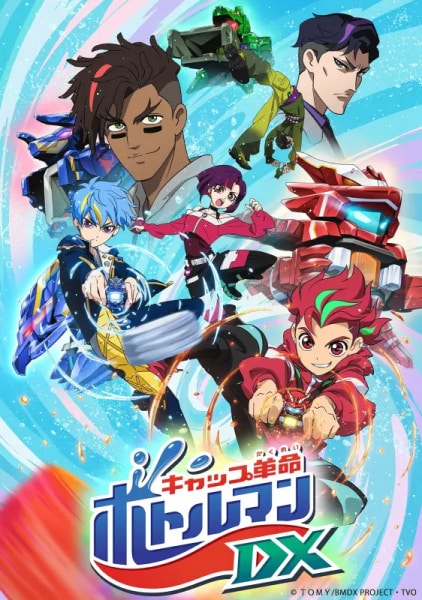 Cap Kakumei Bottleman DX English Dub | Sub Watch Online
The anime centers around a boy named Kouta Kouka (Kouka Kouta in Japanese name order, an apparent wordplay on Coca-Cola). Kouta strives to be the world's best Bottle King at the Bottle Battles in the virtual Drink World. He comes across his Bottleman partner Colamaru and then wages battles with various rivals ..
Rate: G - All Ages
Native: キャップ革命 ボトルマンDX
Aired: Apr 3, 2022 to ?
Premiered: spring 2022
Duration: Unknown
Classroom of the Elite English Subbed All Episodes Watch Online
On the surface, Koudo Ikusei Senior High School is a utopia. The students enjoy an unparalleled amount of freedom, and it is ranked highly in Japan. However, the reality is less than ideal. Four classes, A through D, are ranked in order of merit, and only the top classes receive favorable treatment. Kiyotaka Ayanokouji is a student of Class D, where the school dumps its worst. There he meets the unsociable Suzune Horikita, who believes she was placed in Class D by mistake and desires to climb all the way to Class A, and the seemingly amicable class idol Kikyou Kushida, whose aim is to make as many friends as possible. While class membership is permanent, class rankings are not; students in lower ranked classes can rise in rankings if they score better than those in the top ones. Additionally, in Class D, there are no bars on what methods can be used to get ahead. In this cutthroat school, can they prevail against the odds and reach the top?
Rate: PG-13 - Teens 13 or older
Native: ようこそ実力至上主義の教室へ
Synonyms: Welcome to the Classroom of the Elite, You-zitsu
Aired: Jul 12, 2017 to Sep 27, 2017
Premiered: summer 2017
Duration: 24 min per ep
Episodes: 12
Score: 7.85
Cue! Season 1 English Subbed Watch Online
As a new agency, AiRBLUE's roster consists of voice actresses with absolutely no experience. Expecting to hone their skills and build courage at a gradual pace, the girls are taken aback when the head of their agency, Masaki Ootori, announces that they will be partaking in an audition for Bloomball—a popular sports manga receiving an anime adaptation. Despite all odds being stacked against them, each of the girls is now presented with a momentous chance to make their debut in the unrelenting world of voice acting.
Rate: PG-13 - Teens 13 or older
Native: CUE!
Aired: Jan 8, 2022 to ?
Premiered: winter 2022
Duration: 24 min per ep
Episodes: 24
Score: 6.34